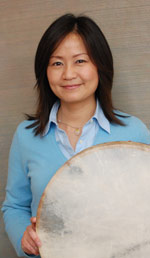 Using a contemporary language of diverse color and inventive effects, award-winning composer Yu-Hui Chang (b. 1970) has written a wide range of music that compels and resonates with professional musicians and audiences alike. She is the recipient of two awards from the American Academy of Arts and Letters, fellowships from the Guggenheim Foundation and Radcliffe Institute at Harvard University, and commissions from the Fromm Music Foundation, Koussevitzky Music Foundation, Barlow Endowment for Music Composition, and Meet The Composer (now New Music USA). Additional honors include the Aaron Copland Award, Yoshiro Irino Memorial Prize, and the Council for Cultural Affairs of the Executive Yuan (Taiwanese government agency, now Ministry of Culture.)
Performances of Yu-Hui's compositions have taken places across continents in the Netherlands, Italy, UK, Denmark, New Zealand, Australia, China, Japan, South Korea, Taiwan, and throughout the U.S. to critical acclaim by musicians and organizations such as the National Symphony Orchestra of Taiwan, Taipei Symphony Orchestra, San Francisco Chamber Orchestra, Sacramento Philharmonic Orchestra, Nieuw Ensemble, NZTrio, Lydian String Quartet, and Alexander String Quartet. Among the numerous commissions she has received are those from the Boston Modern Orchestra Project, Taipei Symphony Orchestra Chorus, Left Coast Chamber Ensemble, Earplay, Alea III, ECCE, Volti, Triple Helix Piano Trio, Ju Percussion Group, Monadnock Music Festival, Arts Council Korea, Mondavi Center for the Performing Arts, National Chiang Kai-Shek Cultural Center of Taiwan, the 2003 Seoul International Festival of Women in Music Today, and many other individual musicians.
In 2011 and 2017, Yu-Hui was invited by Mario Davidovsky to be the Guest Composer at the Composers Conference at Wellesley College. She has also been featured in the Kneisel Hall Chamber Music Festival, Asian Music Festival in Tokyo, the Asian Contemporary Music Festival in Seoul, the Pacific Rim Music Festival at UC Santa Cruz, and the Festival of New American Music at California State University – Sacramento. In March 2006, Works and Process at the New York Guggenheim Museum presented three of her works, highlighting Yu-Hui as a new talent of the younger generation.
A native of Taiwan, Yu-Hui began her intensive music training in piano, voice, and music theory at the age of six, and started seriously pursuing composition as a career at the age of fourteen. After graduating from the National Taiwan Normal University, she came to the United States in 1994 and received her graduate degrees from Brandeis University (Ph.D.) and Boston University (MM). After teaching at UC Davis for seven years, Yu-Hui moved back to the east coast and joined the Brandeis composition faculty in 2006.
Yu-Hui's music may be found in CDs released by labels including Innova, Ravello, Azica, Centaur, and MSR Classics. She also appears as a conductor in composer Ross Bauer's CD "Ritual Fragments" and as a pianist in a CD titled "Tribute to Chou Wen-chung", both released by the Albany label. As an exponent of contemporary music performance, Yu-Hui previously served as a co-artistic director of Empyrean Ensemble and Dinosaur Annex Music Ensemble. Collectively she curated more than seventy concerts.